Today, Sun Gateway is here to share some great tips on how to successfully apply for Home Loans for Thai Abroad. We'll provide insights on how to get through the process and make it easier for Thai individuals abroad to buy or properties in Thailand. We'll also offer guidance on how to prepare for the application process beforehand.
Understanding Home Loans for Thai Abroad
Home Loans for Thai Abroad are special programs designed to help Thai nationals living outside the country acquire properties such as houses or condos in Thailand, just like Thai residents.
These programs come with additional conditions tailored to the convenience of Thai customers abroad, allowing them to easily buy homes, build properties, condos without the need to return to Thailand.
These programs have been in operation for over 20 years and have become even more user-friendly over time. Customers can now sign documents online, proceed with the application without returning to Thailand, grant power of attorney to trusted individuals, and even sign important documents abroad.
Moreover, evidence of income from abroad can also be used to apply for loans from Thai banks. Currently, Thai nationals living abroad can apply for home loans through the Government Housing Bank (GHB) by Sun Gateway, a direct representative of the banks.
Sun Gateway takes care of customers abroad comprehensively, assisting with documentation, providing advice at every step, and even handling the payment process.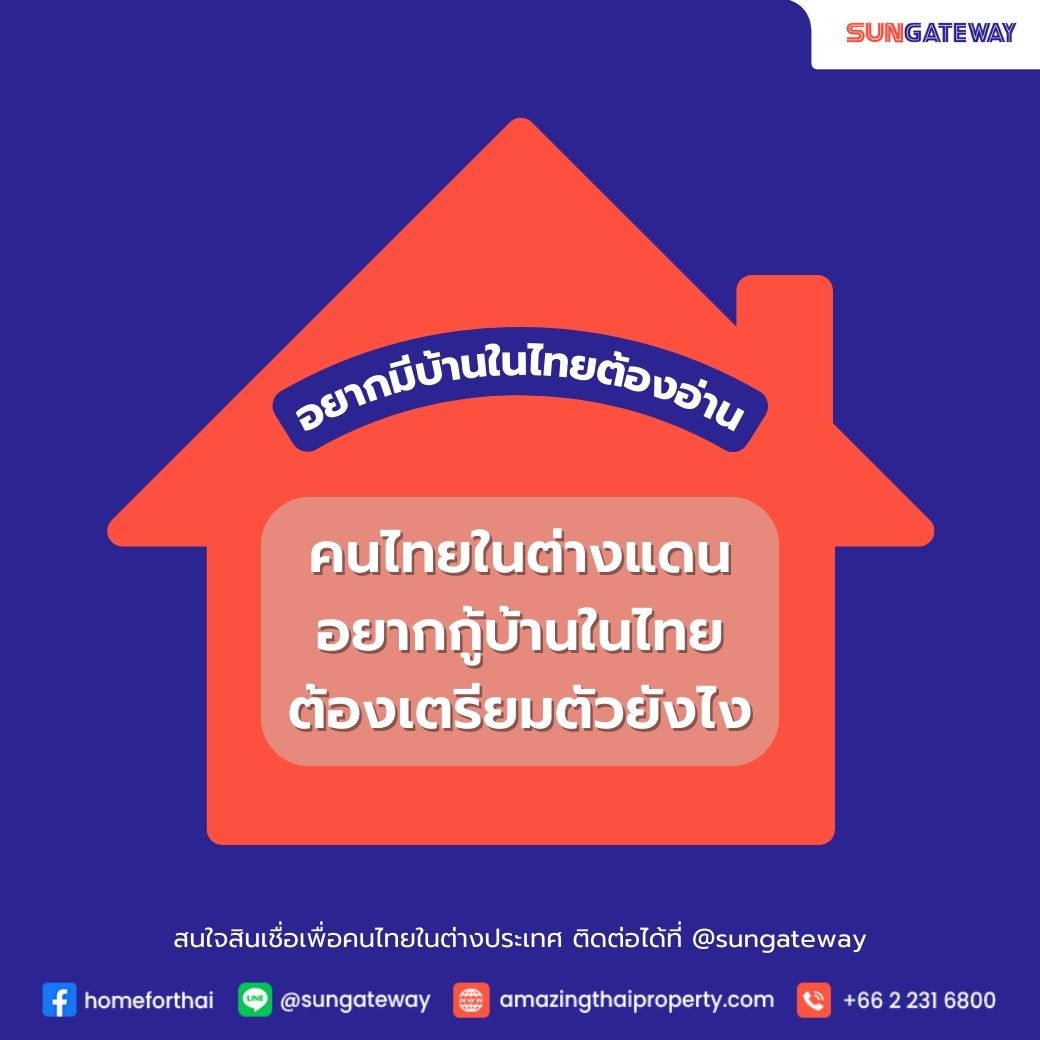 Preparing for a Home Loan for Thai Abroad
Preparing for a home loan application as a Thai national living abroad is not vastly different from the process in Thailand itself. The key difference lies in some additional documentation requirements. Let's look at some essential documents you'll need:
Documents for Thai Nationals Applying with Banks:
Personal Identification Documents: Proof of residence National ID card or government officer ID card
Marital Status Documents (if applicable): Copy of marriage certificate/divorce certificate/widow certificate/separation certificate
Name Change Documents (if applicable): Copy of name change certificate
Spouse's National ID Card (if applicable) Documents for Demonstrating Income:
For Salaried Individuals:
Salary certification letter or employee benefits certification letter
Payslips or salary payment evidence for the last 3 months
Bank deposit statement for the last 6 months
Other financial status documents (with physical proof)
For Self-Employed Individuals:
Bank deposit statement for the last 6 months
Business registration certificate/commercial registration certificate/company registration certificate/legal entity registration certificate
Income tax payment evidence
Photos of business operations (3-4 images)
Professional license copy
Receipts of product/service sales
Other financial status documents (with physical proof)
In addition to these documents, you may need property-related documents such as building plans, land title deeds, and others, depending on whether you're purchasing or building a property.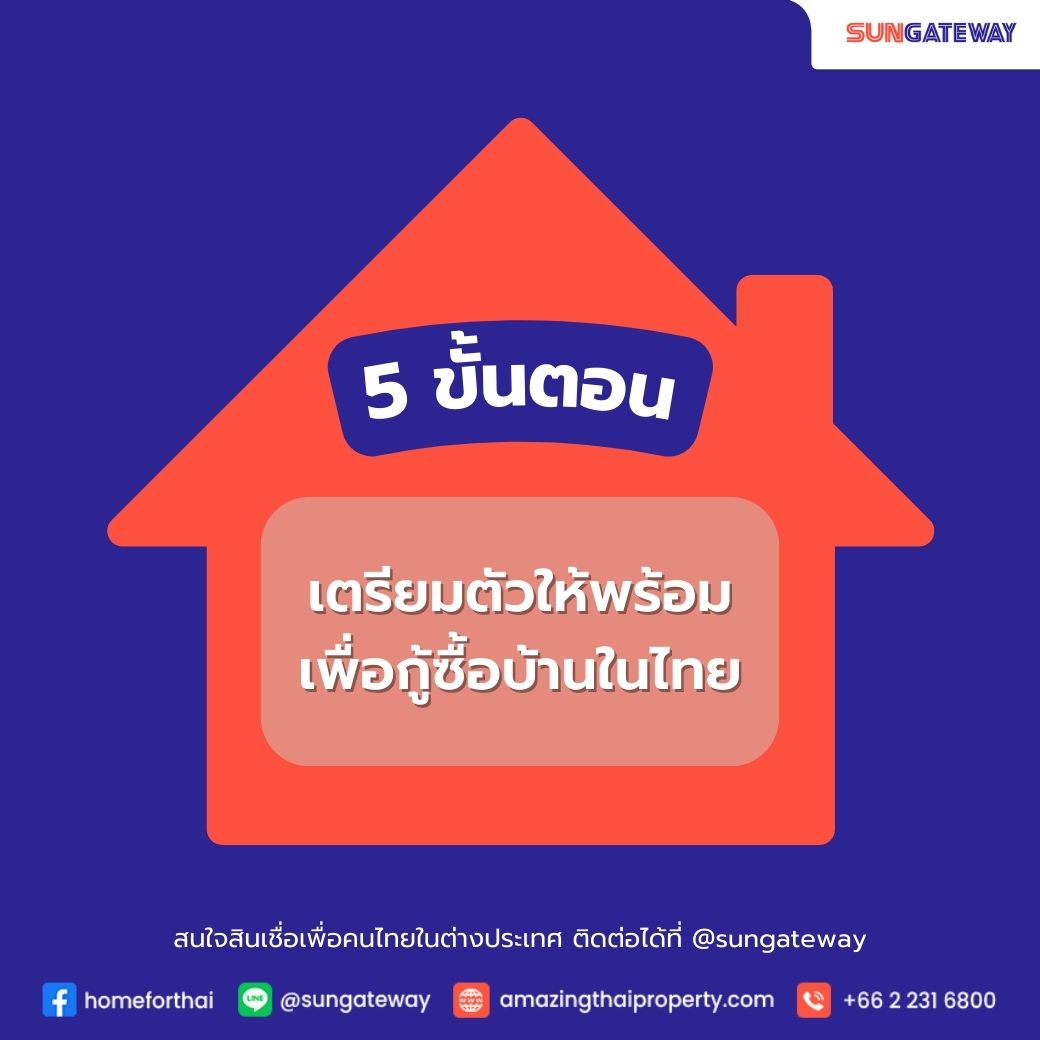 5 Steps to Prepare for Home Buying in Thailand
Legally Reside Abroad
If you wish to participate in the loan program for Thais residing abroad, you must have proper documentation according to the law and hold a long-term visa for several years. This is required to be eligible for the loan program.
Manage Monthly Expenses
Even though Thais abroad might have higher incomes compared to those in Thailand, it doesn't guarantee 100% approval for a loan or a high loan amount. Banks evaluate not only income but also expenditures and existing debts to determine your ability to manage mortgage payments. Normally, loan applicants should be able to manage debt payments not exceeding 40% of their income. Thus, it's advisable to minimize your expenses and debts to increase your chances of loan approval.
Save 5-20%
For future home loans, it's recommended to have savings of at least 5-20% of the property's price. When applying for a housing or condo loan, Thais abroad can typically secure up to 95%* of the property's appraised value, leading to additional costs such as down payments, transfer fees, appraisals, mortgage registration fees, and more.
*The maximum approved loan amount of 95% is subject to the bank's terms and conditions, and these may change without prior notice according to banking regulations.
Maintain Good Credit History
If you are a Thai living abroad and want to apply for a home loan in Thailand, ensure that your credit history in Thailand is in good standing. If there are any issues with your credit history, resolve them before applying for the loan.
Keep a Neat Financial Record
When applying for a home loan, maintaining a good financial record is crucial. Keep a consistent monthly balance in your account and maintain evidence of your income, such as payslips for at least 6-12 months. These records will be essential when applying for a loan.
Get Assistance for Home Loans for Thais Abroad
If you're unsure where to start, lack knowledge about the loan application process, or can't dedicate time to prepare documents in Thailand, consider seeking assistance. We can be your personal assistant, guiding you through the entire process and directly submitting your application to banks and financial institutions, saving you the hassle of traveling to Thailand. Our goal is to make home loan applications for Thais abroad as smooth as possible.
For complete and accurate information on required documents for Thai nationals living abroad, additional documents, or to inquire further, please contact us via our official Line account @sungateway or click https://lin.ee/aawEmXT.