People of Non-Minburi, be patient a little more! Mrt Pink Line Khae Rai-Min Buri route It is close to open for service and is expected to be open to the public for testing by the end of 2023. Today we will take everyone to check the details of the route of Nom Yen, how many stations there are, and which stations can change the line.
Update the latest pink line electric train news
The latest news of the MRT Pink Line today (July 10, 2023) has checked the readiness before the virtual train operation (Trial Run) of the MRT Pink Line Project, Khae Rai – Min Buri section from Min Buri Station (PK30). – Chaloem Phrakiat Government Center Station (PK12), which was found to be ready to open for service to the public as planned and expected to be open for the public to participate in the virtual train test at the end of 2023.
Mr. Pakaphong Sirikantaramas, Governor of the Mass Rapid Transit Authority of Thailand (MRTA), revealed that The MRT Pink Line Project: Khae Rai – Min Buri Section is a project according to the master plan for mass transit systems in Bangkok and its vicinity, in which the MRT Pink Line will be ready for each station to complete 30 stations, focusing on the principle Availability of work and safety to the public come first.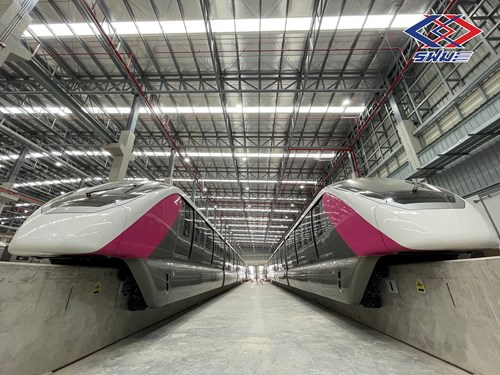 How many stations does the Pink Line have? Check!
For the Pink Line, there are a total of 30 stations, including
Nonthaburi Civic Center Station – Connecting point to MRT Purple Line
Khae Rai
Sanam Bin Nam
Samakkee
Royal Irrigation Department
Pak Kret Intersection
bypass Pak Kret
Chaengwattana – Pak Kret 28
Si Rat
Muang Thong Thani
Chaengwattana 14
Chaloem Phrakiat Government Center
national telecommunications
Laksi – a connection point with the Red Line electric train
Phranakhon Rajabhat
Wat Phra Si Mahathat – the connection point with the Green Line electric train
Ramintra 3
Lat Pla Khao
Ramintra Km.4
Mayalap
Watcharaphon
Ramintra Km.6
Khubon
Ramintra Km.9
Ram Inthra Ring Road
Nopparat
Bang Chan
Setthabut Bampen
Minburi Market
Min Buri – Connecting point to the Orange Line electric train
Including questions that many people wonder about the Pink Line.
The total distance of MRT Pink Line: For total distance of MRT Pink Line, It has a length of up to 34.5 kilometers.
Can the Pink Line go to Muang Thong Thani?: You can go to Muang Thong Thani as an extension. During Si Rat Station – Muang Thong Thani, there is a line connecting the MRT Pink Line Project at Muang Thong Thani Station (PK10) to Soi Chaengwattana – Pak Kret 39 to the end at the lake in Muang Thong Thani. There are 3 IMPACT Muang Thong Thani stations. (MT01) and Muang Thong Thani Lake Station (MT02), with a distance of approximately 3 kilometers, are expected to open in 2025.
How much is the fare: At this time there is no information about the fare.
When is it scheduled to open: Expected completion in June 2024.